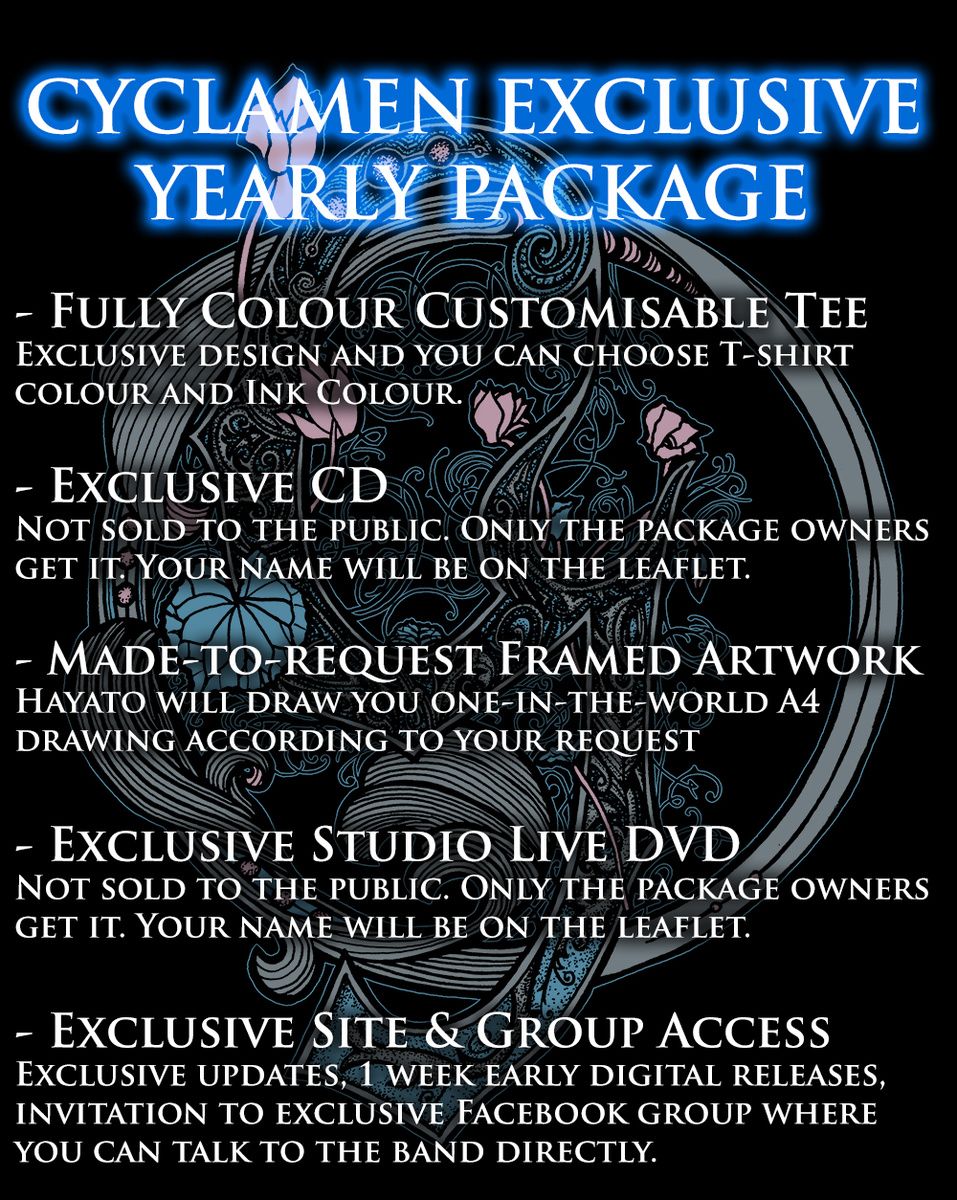 Hayato Imanishi is a busy guy. Not only does he basically do everything in Cyclamen, he was a special guest on both Noyan's (NYN) album and Anthony's (Encircle) album. Plus a bunch of other stuff, let's be real.
Showing no signs of stopping, he and Cyclamen are now aiming to partake in a very limited subscription service (only 100 participants will be eligible) that includes an entire exclusive album, personalized artwork and more.
The year-long subscription service costs $100 ($99.99 to be more precise) and will feature the following:
Cyclamen Exclusive Yearly Package
from Realising Media
You will receive followings over the course of 2015, every 3 months.
March: Exclusive, colour customisable t-shirt design: (Size, T-shirt colour, Ink colour, all customisable).
June: Exclusive album: Leaflet will include your name. It will not be sold to the public. Songs will be all original & freshly composed that are never released before.
September: Made-to-request framed A4 size pointillism drawing by Hayato. You can request what to draw to Hayato.
December: Exclusive live studio DVD: Leaflet will include your name. It will not be sold to the public.
On top of this, you'll have access to the exclusive site where you can get exclusive updates and early releases, and you will also receive invitation to Facebook group where you can talk to the band members directly.
All these four items for $100 including the delivery cost to anywhere in the world. The service starts in March.
Available until 1st March 2015.
If you're a Cyclamen fan, you won't want to miss this. The $100 price seems a little steep, but for all the exclusives you're getting, especially that personalized pointillism art by Imanishi himself, may very well make this worth it for you.
You can pre-order this very limited package via Cyclamen's Bandcamp.
-KG