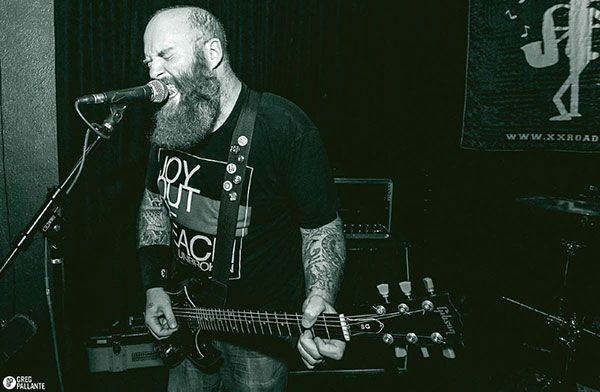 There are times when we are all reminded that musicians, no matter how well-known or obscure, how famous or not, are simply humans who are bound to the same laws of nature and human tragedy as the rest of us. This is particularly true when it comes to both matters of health and unexpected financial strains, as I'm sure almost every musician out there can attest to. Such is the case with Nate Gluck, bassist for New Jersey hardcore band Ensign, who has recently been diagnosed with cancer of both the stomach and esophagus. He and his wife, Christy, have no real savings, and for the heart-breaking cherry on top, she has recently found herself unemployed, and they are terrifyingly close to losing their home. Find out how you can help after the jump.
Some friends of Gluck and his wife have recently launched a campaign on GoFundMe to raise money for them, and the description is nothing short of heart-wrenching.
Things aren't very good right now. Nate is barely able to eat and will be beginning chemo and treatment really soon. He has lost a ton of weight and he is often too ill even to drive, and he is in a lot of pain. Despite all of that, he is in good spirits and ready to fight this thing. His optomism [sic] about all of it makes my eyes well up. But that's how Nate is. He handles everything with a smile.
As of the time of posting, the campaign is nearly 90% of the way to their goal of $100k. Let's help push this thing over the top! You can do so by sharing the campaign page or donating yourself.
-KK