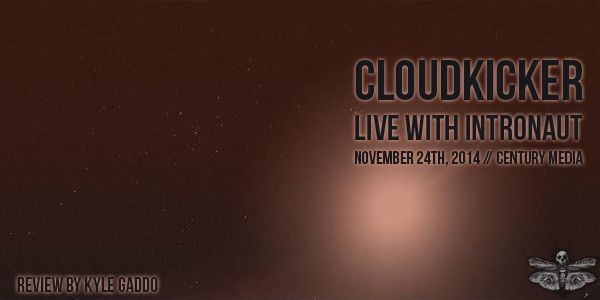 Years of wanting and waiting and wishing and working are often hard to encapsulate in a simple 43-minute recording for some, but in the case of Ben Sharp and his solo project, Cloudkicker, finding a whole month off from work as a pilot can be impossible. Especially considering that this "vacation" is merely a disguise for more work, as touring life can be something of an endeavor. Still, after working in secret for nearly two-and-a-half years with the boys in Intronaut, it only seemed right for Sharp to become part of the joint Intronaut and Tesseract tour earlier this year.
Without hesitation, several of us here at Heavy Blog experienced the live show, even immortalizing a performance via photographs, but others (like myself) were not so lucky, with the tour passing over some major cities. There is still a deep-seated hope that this will happen once again in the future, but for those that could not experience what perhaps may be a once-in-a-lifetime event, Sharp and Intronaut teamed up with Century Media to release 43 minutes of live performance recorded live in Austin, TX on April 6, 2014 at Fathom Tree Recording Studio.
There is unfortunately little to say that is either extremely good or extremely bad about this performance. Yes, this is Sharp's work perfectly reproduced in a live setting. It's wonderful to listen to, mesmerizing and evocative in all its shapes and sizes and colors and languages of notes and melodies and ambiance, and simply joyful to experience from the comfort of home. Knowing that the mighty post/progressive act of Intronaut is leading the charge alongside Sharp is blissful. Quite like a dream come true, actually, as there likely isn't a group of musicians better suited to recreate what has only been previously experienced from a man's house.
The true highlight of this recording (and imaginably of all live Nautkicker performances) is the improvisational work that Danny Walker asserts on the drums. The guitars and bass, those belong to Sharp, but Walker is something of a magician with a pair of sticks in hand, taking the beloved backbone of Sharp's work and transmuting it into something massive, ignoring traditional alchemical laws of equivalent exchange. Those do not exist to this man, as his clever use of fills outside of the framework laid out by Sharp breathe a certain level of new life into songs we have experienced before. Danny Walker is flawless in all his imaginative skill and endless repertoire of spontinaeity. Outside of the fact that this is an actual live performance of Cloudkicker music, Walker is truly the star of this recording.
Again, however, what is there to say about Cloudkicker's Live with Intronaut beyond the idea that its evanescent nature is something to be cherished? With this release by Century Media, you can experience this all-too-brief moment over and over again, but a mere 43 minutes just doesn't seem enough. Parts of Subsume were cut down even further, likely to not exhaust the boys in Intronaut for their own set immediately after Cloudkicker. Perhaps the shortening was to not overwhelm audiences with the magnetic musical loops that Ben Sharp is so oft to use in his writing. Repetition is an entrancing way to draw audiences deeper in the music, but sometimes it is just not a viable option when performing live. Whatever the case, from beginning to end, Live with Intronaut is resplendent, but simply doesn't feel like enough. And perhaps that may be the grandest tragedy of all.




-KG