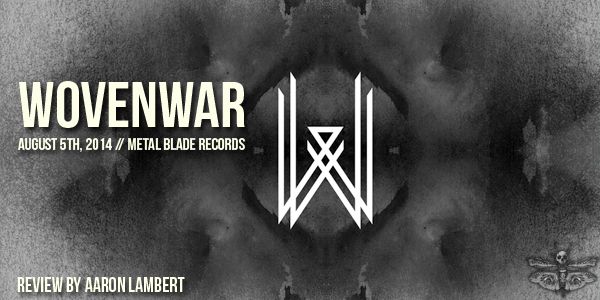 Music born from strife is often some of the most powerful, impactful music ever created. When that raw emotional element is the main driving force behind the creation of the art, the outcome is usually something very pure and potent, and is something that could not have been created in any other way. This is how Wovenwar was born. On May 7, 2013, As I Lay Dying frontman Tim Lambesis was arrested for attempting to hire a hitman to murder his ex-wife. In an instant, As I Lay Dying went from one of the biggest metal bands in the world to a band with an uncertain future.
The remaining members of As I Lay Dying, guitarists Nick Hipa and Phil Sgrosso, drummer Jordan Mancino and bassist Josh Gilbert were left without a frontman, and as the controversies surrounding Lambesis turned out to be true, the guys teamed up with Shane Blay of Oh, Sleeper and began to do what they do best: write music. Blay's vocal abilities allowed the band to expand their horizons beyond what As I Lay Dying was known for, and the end result became Wovenwar. Wovenwar's debut album has been one of the most anticipated records of 2014, and the creation of the album begged the question: were the members of As I Lay Dying able to rise from the ashes of their beloved band and build upon the creative stride displayed on Awakened? The answer is a resounding yes.
A short ambient intro titled "Foreword" leads into the opening track and first single "All Rise", whose lyrics are a not-so-subtly directed at As I Lay Dying's now incarcerated frontman. The words of the chorus go, "You have the chance to rise again/ To cast the light that hides within/ you have the chance to be a man", and it's pretty obvious what and who they're singing about. This project was obviously born as an outlet for the frustration, confusion and sorrow the reaming members of AILD were feeling, and other songs on the album could be perceived as being directed towards their former bandmate as well. However, looking past the subject matter of the album, the instrumentation and riffs have Sgrosso's and Hipa's fingerprints all over them, which is not a bad thing. The catchy melodic leads and hooks are here in spades, as well as the crushing, groovy riffs the two guitarists have become known for. Mancino is just as much as a beast on his kit as he has been on previous records, and when Gilbert and Blay lock into a vocal harmony, it incites goosebumps down the spine. The songs are very anthemic in nature, and almost every song on the record has a chorus or melody that easily gets stuck in your head. Think As I Lay Dying with no screaming and a stronger emphasis on melody. Wovenwar is a chance for the guys of As I Lay Dying to expand upon the catchy, clean choruses they began to utilize more on An Ocean Between Us and continued to on subsequent albums.
Even though Wovenwar is a departure from the metalcore stylings of As I Lay Dying and plays more like a hard rock or heavy metal record, it contains the best collective performances the members of As I Lay Dying have ever given; ironic, considering Wovenwar wouldn't have been born had not the circumstances that occurred last year transpired the way they did. It just goes to show that the best art is born from hardship. It's amazing to see how much these guys have grown as musicians since Shadows Are Security, and with Wovenwar, they've proven that they're even more versatile as musicians than they've let on. The songwriting and composition on this album is nothing short of phenomenal, each section segueing perfectly into the next, and the band couldn't have chosen a better frontman than Blay. His work with Oh, Sleeper has always been fantastic, but the nature of Oh, Sleeper's music never allowed much room for him to let loose as a vocalist. Wovenwar provides the perfect setting for Blay to really let his voice shine. Moments such as the huge chorus on "Archers", or the juxtaposition between Blay's and Gilbert's voices on "Prophets", or the many fantastic riffs to be found throughout are but a few reasons why this album is so addicting to listen to.
Passion and conviction oozes from every vocal sung, every note strummed, every drum hit on Wovenwar, but these songs were clearly also written with the live setting in mind, which is where they'll really come alive. Coupling songs such as "The Mason", "Archers" or "Sight of Shore" with the live energy the guys of As I Lay Dying are known for will be a sight to behold, indeed. The album is bookended with the intro "Foreword" and the outro "Onward", both of which are fitting descriptions of how Wovenwar began and where they are headed. Onward and upward, as the saying goes. Wovenwar is proof that something really special can come from a horrible situation. The future of As I Lay Dying remains unknown, but Wovenwar have risen from the ashes and are here to stay. Highly recommended.
Wovenwar's Wovenwar gets…



4.5/5
-AL