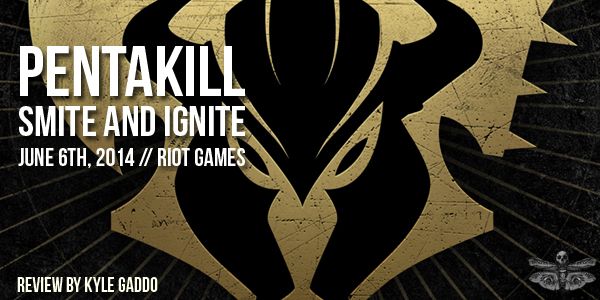 It's so often that a "virtual band" can be quickly dismissed as a gimmick or a fad.  "Cartoon characters can't be musicians," some would mutter under their breath, relegated to their old-thinking ways that only touring musicians can be considered "true artists" or some such nonsense.  With the onset of the digital age, however, we saw the rise of people collaborating across states and over seas to create music, with some musical projects coming to life that may otherwise never have happened.  1998 saw the rise of virtual creation Gorillaz, led by songwriter Damon Albarn and animator Jamie Hewlett, to much adoration outside of Blur's normal fanbase.
Enter Dethklok years later in 2006, who continue to be a cultural force, producing four albums worth of music spearheaded by animator and guitarist Brendon Small.  With success in the animated medium, Small was able to enlist the abilities of legendary drummer Gene Hoglan (ex-Death, ex-Strapping Young Lad, ex-Dark Angel…you get the idea), Michael Keneally, the "leading progressive rock genius of the post-Zappa era," and Bryan Beller, whose bass-oriented associations are as numerous as they are excellent.  Rather strange how such a ridiculous concept, a fictional band, can draw even the most talented musicians in order to manifest as a live, touring act, right?
Now, we come to Pentakill, a fictional band created from the heart of Riot Games.  That's right, the very same team that made free-to-play multiplayer online battle arena League of Legends not only put together an all-digital band comprised of champions within the universe (namely, Karthus, Mordekaiser, Sona, Yorik, and Olaf), but the band actually exists within the context of the game's universe (each of these characters have a unique skin to represent their affiliation!).
Pentakill is more than elaborate piece within the realm of League of Legends lore, however, in that Smite and Ignite, the not-so-fictional album wrought from the minds and hands at Riot Games, came together to be a wonderfully crafted slice of power metal cake.  Unbelievable.  From the very first moments of 'Lightbringer,' with the chunky bass guitar, you'll ask yourself "Where is this going?"  As the song picks up, there's a delightful sweeping melody which leads into a tasty lead, and before you know it, you hear Jørn Lande's familiar wail.  Wait.  Jørn Lande?!  That's right—ex-Masterplan vocalist has been recruited to contribute to Smite and Ignite.  By way of Karthus as the avatar, Lande sounds as good as ever and isn't even bogged down by his horrible lyrical ideas.  Praise be to Riot.
The fun doesn't stop there, however, as once 'Lightbringer' comes to a close, the speedy, echoed lick of 'Deathfire Grasp' takes a hold of your collar and tosses you up against a wall as its about to take your lunch money.  It tears into you at lightning-fast speeds in glorious (oh-so-glorious) power metal of days past revived once more from the heart of a volcano from where a mighty dragon is entombed.  "YEEEEEEEAH," you hear, your heart skipping with delight.  That voice.  That familiar cry, thought to be forgotten to the dusts of time.  No, it cannot be.  ZP Theart?  Yes, none other than the former DragonForce screecher has taken the helm as the high-pitched part of Karthus' vocalist duties in conjunction with Lande.
In all honestly, 'Deathfire Grasp' is one of the best power metal jams you have heard in the last, say, five years.  It's impossible to get over just how good this song is, despite its simplistic nature and speedy departure from beginning to end.  The fun doesn't stop there, though, because chuggy instrumental 'Ohmwrecker' gives you the penultimate power experience in having trade-offs between keys (oh, is that some Derek Sherinian?) and lead guitars.  Dig it.  Dig it hard.
Theart's powerful voice returns on 'Last Whisper' as a final reprise to his appearance, though this track isn't nearly as gripping as his previous contribution.  In fact, the album loses a bit of steam here, as 'Last Whisper' is a slower track and 'The Hex Core' is a far less ambitious instrumental than 'Ohmwrecker.'  'The Prophecy' comes in as a tie-in device, reminding you, "Hey, dummy, this album comes from a video game," and gives you some ominous narration before taking you back to the riffs.
'Thornmail' brings back Lande in a big way, offering a more powerful and upbeat track than 'Lightbringer,' and infinitely more catchy.  Not exactly much to say here—just good, old-fashioned power metal.  'Orb of Winter' comes in as a closing track, where keyboardist Sona takes the lead vocally and instrumentally to create a monumental, orchestral track (courtesy of the Hollywood Scoring Orchestra).  Quite a lovely piece with great energy, but lacks a certain je ne sais quois in the context of a grand power metal album like nearly all the tracks that preceded it.  However, it works wonderfully as a closer and gives a certain finality to the half hour experience.
Perhaps the most important thing to note about Smite and Ignite is that this superb piece of power metal is available at no cost to you whatsoever.  Riot Games couldn't quite figure out how to price the album because "Pentakill was headbanging so hard during the marketing meeting," so this delicious power metal offering, much like the game itself, comes in at a cool zero dollars.
What else is left to say?  Go get this.  It rules.  Undoubtedly, the more we enjoy it, the more we can look forward to future Pentakill developments, because this is a great way to whet our appetites.  Leave it to a video game company to give us one of the finest power metal offerings in recent history.
Pentakill's Smite and Ignite gets…



4/5
-KG