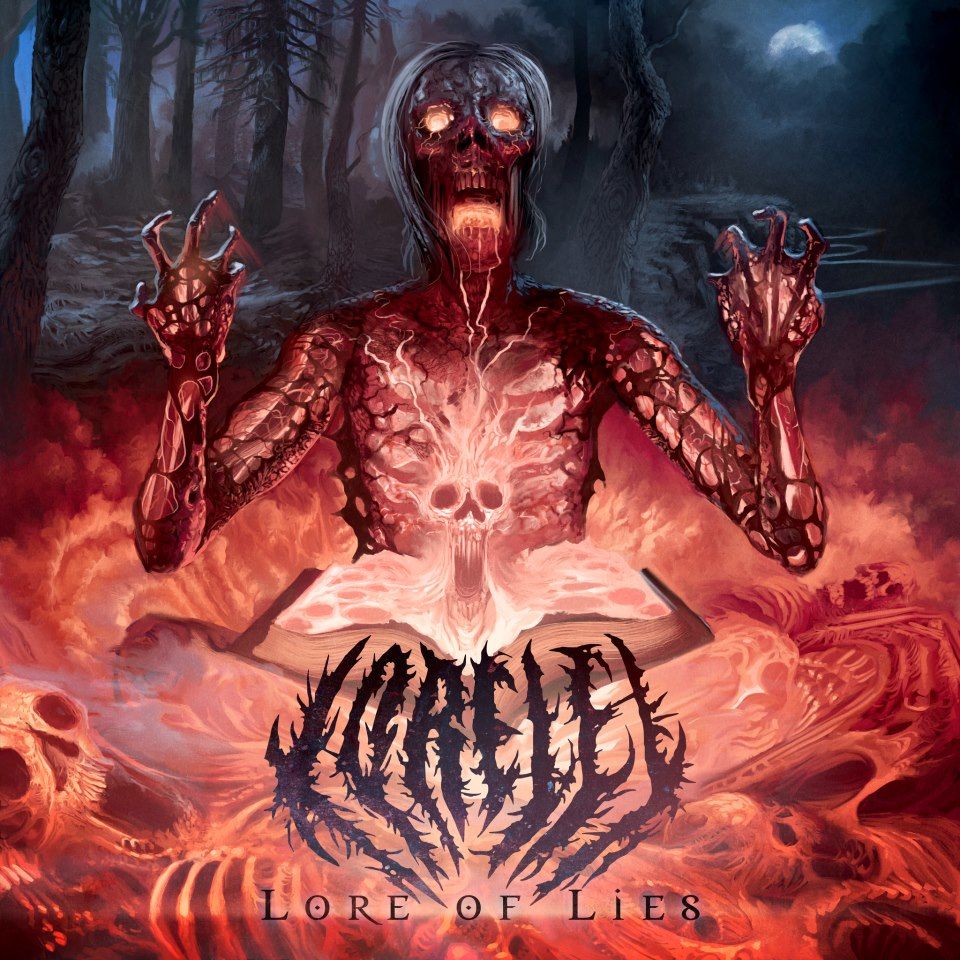 Lorelei
Lore of Lies
01. Preface to Insanity
02. Godfather Death
03. The Dunwich Horror
04. The Mortal Immortal
05. The Hearse Song
06. Masque
07. Salem Town
08. Lore of Lies
[02/04/14]
[Subliminal Groove Records]
Subliminal Groove Records made waves last year when they released Ovid's Withering's Scryers of the Ibis, an album which seemingly came out of nowhere and blew everybody away. Ovid's Withering so flawlessly mixed elements of symphonic metal, deathcore, djent, black metal and even a little bit of slam to create a minor modern metal masterpiece. This highly technical, symphonic and groove-laden style is rapidly becoming a new trend in modern metal, and Subliminal Groove seems to be pushing it hard with their roster. Fellow Subliminal Groove labelmates Lorelei are another great example of a band following in this style, and much like Scryers of the Ibis, their highly-anticipated debut album Lore of Lies is bound to serve as an anchor point for legions of young and upcoming metal bands.
The album starts off with a beautiful classical piano piece entitled 'Preface to Insanity'; a fitting title, considering everything that follows is just that—insanity. At first impression, the first two tracks, 'Godfather Death' and 'The Dunwich Horror' appear to be nothing more than your above average, run-of-the-mill deathcore, rich with what is referred to nowadays as "00000" chugging. However, it's the symphonic elements that Lorelei utilizes so well that really sets them apart from the rest of the pack. The orchestral arrangements inject a classically-tinged, bleak atmosphere into each of the songs, which really give Lore of Lies its sonic identity.
Things really pick up once 'Masque' comes around. This song is chock-full of dark theatrics, technicality, and groovy riffs, and it's one of the strongest cuts on the album. It's unfortunate that the album's momentum doesn't really get going until it's more than halfway done, because there's a lot showcased throughout. The title track is undoubtedly the centerpiece of the album, and is likely to become a classic within the genre Lorelei adhere to. During its 12 minute length, Lorelei spans multiple musical movements and creates what is essentially the sonic equivalent to a horror movie, and a good one at that. This track keeps the listener on their toes as they traverse groove riffs, breakdowns and epic symphonic blasting sections, and it closes the album on a high note.

The production on Lore of Lies is commendable, and Aaron Smith of 7 Horns 7 Eyes did a great job of mixing the album. That being said, it does the follow the "overproduced" scheme that is becoming so prevalent in modern metal. This can be either good or bad, depending on the preference of the listener. In Lorelei's case, it works. Production aside, there's no denying that Lore of Lies is going to turn a few heads. This "blackened symphonic deathcore" movement is already catching on, and Lore of Lies is likely to be considered one of the "classics" of the genre.
Lorelei – Lore of Lies gets…

4/5
– AL