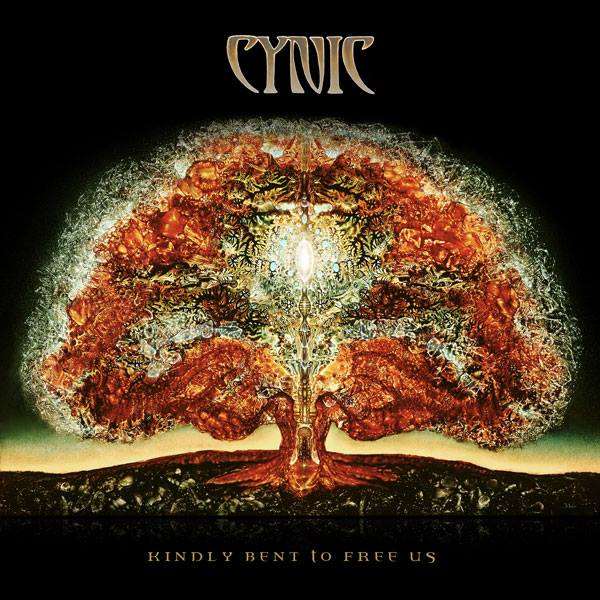 Cynic
Kindly Bent to Free Us
01. True Hallucination Speak
02. The Lion's Roar
03. Kindly Bent to Free Us
04. Infinite Shapes
05. Moon Heart Sun Head
06. Gitanjali
07. Holy Fallout
08. Endlessly Bountiful
[02/14/14]
[Season of Mist]
It's been 6 years since progressive metal legends Cynic released their last full-length, the excellent Traced in Air. Mercifully, they've been more active in that time than the 15 years that spanned that record with their first landmark album, Focus. The two EPs they released post-Traced, 2010's Re-Traced and 2011's Carbon Based Anatomy, took the already softened, more traditionally progressive rock edge of Traced and dove headfirst towards spacey jams, delicate and catchy melodies, and new-age broadness. It's been a progression that has mostly made sense for the group, as some of the characteristics of their older material (namely Paul Masvidal's heavy use of vocoder effects) feel somewhat archaic now, and Masvidal's natural falsettos feel more appropriately paired with cleaner, more conventional progressive rock sounds than growls and thrashy outbursts.
Leading up to the announcement of their third full-length, Kindly Bent to Free Us, the band gave every indication to expect bigger, more expansive sci-fi-driven jams (space jams, if you will). In that regard, Kindly Bent to Free Us certainly succeeds. The problem is that Cynic's "progression" is starting to cross the line into dangerous territory: one where "prog" becomes synonymous with bloated mish-moshes of wandering jams to nowhere.
At 8 tracks and a couple of clicks north of 40 minutes, Kindly Bent's format and structuring appear to stick closely to Focus and Traced in Air. The one key difference though is in track length. Cynic has traditionally shied away from tracks longer than 6 minutes. There are three such songs on Kindly Bent though, with another above the 5-minute mark. The first of these, opener 'True Hallucination Speak,' tackles the somewhat overwrought musical topic of describing the use of hallucinogens through song.
Cynic has never been a band particularly known for their lyrics, but many of the words scattered throughout the album range from overly opaque to downright clunky. The sequence of "Pop, snap, crackle, and pop/science fiction memory" in the middle of 'True Hallucination Speak' certainly qualifies for both. Musically, it's a pretty solid opening track, particularly with its syncopated ascending riff that forms the backbone through most of the verses, but you'll spend the duration of the 6 minutes waiting for it to kick into another gear, especially after the brief high-octane solo at its midway point. Instead, it fizzles out over the remaining two minutes of vamping over the same theme.
The title track, another lengthy jam, follows an almost identical structure to 'True Hallucination Speak,' and, not coincidentally, has pretty much all of the same issues. The two tracks in the middle of the album—'Infinite Shapes' and 'Moon Heart Sun Head'—though not quite as long, also suffer from meandering songwriting, each featuring a few interesting moments, but never quite coalescing into anything particularly memorable before settling into their original themes and simply jamming out until fading.
So many of these tracks share similar flaws that it quickly becomes a defining characteristic of the album as a whole. Cynic desire to create more open-ended tunes that blend the focused technicality of their previous work with spacier influences, but when that space comes at the expense of form and the kind of adventurous songwriting that could keep the listener engaged and entranced by the surprising immediacy and downright catchiness, it ceases to add much value.
Thankfully there are a few tracks here that hold together well while feeling genuinely new for the band. 'Gitanjali' finally cuts through the album's saggier midsection with a much more tightly-wound 4 minutes brimming with propulsive energy and mysterious riffing contrasted by a serene bridge. 'Holy Fallout,' the album's longest track, is actually the only one that feels like it earns its runtime. Between its instantly memorable chorus, daggered guitar patterns and lines, and sense of building momentum throughout, it's much more like vintage Cynic than anything else on the album.
Finally, we have the track least like the band's older work; the downright prog-pop anthem that is 'The Lion's Roar.' Whether or not you feel this is an approach the band should be taking, it is undeniably one of the catchiest things the group has written, and with its blistering bass lines from Sean Malone, deep-pocketed grooves from drummer Sean Reinert, and perfectly precise guitar solo from Masvidal, it's hardly a lightweight either. Even taking into account some particularly goofy—not to mention scientifically-questionable—lyrics about the nature of animals and plants, the track is a clear highlight.
It's been made clear at this point that Cynic will not be writing another Traced in Air or Focus anytime soon, and that's not necessarily a bad thing. Even with its flaws, the fundamentals of Kindly Bent to Free Us are still good. The trio of Masvidal, Malone, and Reinert are an immensely talented force, and they've only appeared to have grown tighter and more confident in their writing and playing with age. That doesn't prevent Cynic's latest from ultimately being a bit of a letdown, but doesn't shake faith in the band's ability to write mesmerizing songs full of jazz and metal-tinged twists and turns. However, we can only hope for a little more cohesion in Cynic's future work.
Cynic's Kindly Bent to Free Us gets…

3/5
-NC