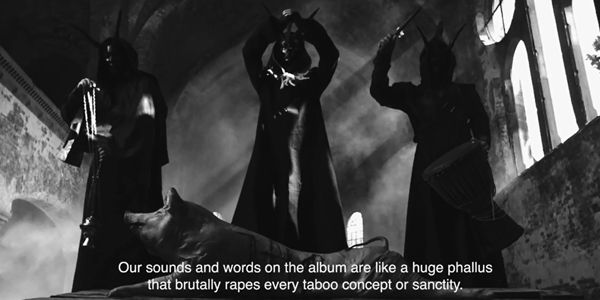 Behemoth have always been known for their controversial theatrics, and that definitely hasn't changed a bit since Nergal was diagnosed with and subsequently destroyed Leukemia. The hype leading up to the release of the blackened death metal titans' highly anticipated 10th studio album The Satanist has been heavy on the occult imagery. Go figure, right?
In the first teaser trailer for the record, monochromatic shots of the band performing music and rituals alike juxtaposed against a very poetic explanation from Nergal about what The Satanist actually means:
"Our sounds and words on the album are like a huge phallus that brutally rapes every taboo concept of sanctity."
I know the band are trying to achieve a certain image and tone to properly set up what is sure to be an epic album filled with blasphemous concepts but a professional musician just referred to his insanely anticipated album as being akin to a penis and I have the sense of humor of a twelve year old. Check out the trailer below:
Regardless of my immaturity, all of us at Heavy Blog are ridiculously excited for The Satanist. I'm not even that big of a fan, but I just need for this album to be amazing, you know? It'll be out February 4th on Metal Blade Records.
– JR