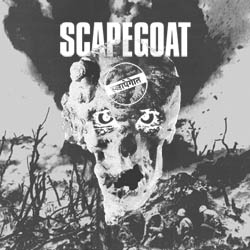 If you're into the hardcore/punk/powerviolence sound and dig such bands as NAILS, Trap Them, and Baptists, then I suggest you waste no time in checking out Scapegoat. Over the past year and half I've found myself getting back into this style of music and Scapegoat are not only a welcome surprise, but a great addition to my album collection. I'm just completely blown away by their self-titled LP, hell, to be perfectly blunt, their album fucking rips! It's 20 tracks of fast, aggressive and unrelenting music that any fan of this genre is sure to enjoy.
As of now their LP is only available on vinyl and it can be purchased through the Painkiller Records website for only $11.
Luckily though, most of the songs from their LP are up on YouTube for your listening pleasure, so be sure to check out the ones I posted after the jump. But be warned, you might spontaneously start punching things…
Here is what the label has to say about Scapegoat:
"Produced to the exact specifications of bassist Slippy Dee comes this triumph of Power Encrusted Violence, titled "Life is Just One Damn Thing After Another". Each of the twenty (20!) tracks brings the grim world view of Scapegoat into focus through the Kelvin Morris-esque lyricism of vocalist Elijah-Zababai Bakerivias. Coupled with the Van Halen/Anthony reminiscent interplay of guitarist Eggslilith Jones and the aforementioned Dee, as well as the "Hammer of the Gods" drum attack of Malcolm McDowell, Scapegoat have delivered what very well may be the album of the year, to say nothing of next year."
Scapegoat – "Gear"
[youtube=http://www.youtube.com/watch?v=4y9R84On_HA]
More after le jump. It's worth it; trust.
Scapegoat – "Desensitized"
[youtube=http://www.youtube.com/watch?v=IzQpTiHOE0k]
Scapegoat – "Bottom Feeder"
[youtube=http://www.youtube.com/watch?v=I06AEkbY7TI]
-DA