Things That Are Fucking Metal is new series of satirical comedy pieces that explores what makes metal so fucking metal. So hold tight and cut out the bitching, as it's a joke. I know it's sort of ruining the experience if I make it obvious, but I know there will be butthurt. So without further ado…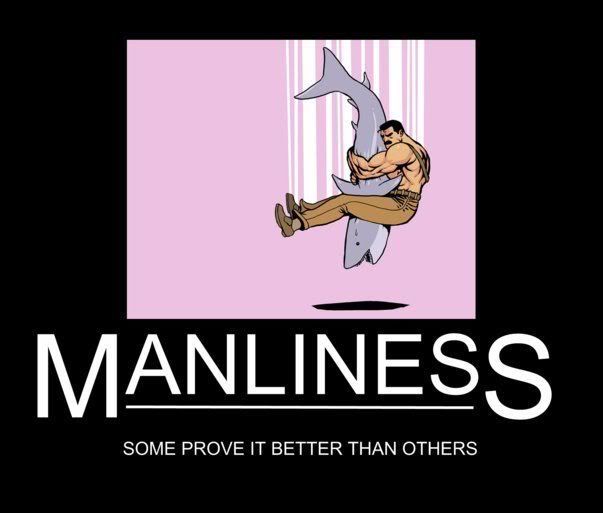 Metal is the musical equivalent of piledriving a shark, and much like shark piledriving, it should be left to the men to take care of. It takes testicular fortitude to write some deep introspective lyrics and pissed off music. Sure, we've all heard the saying, "Hell hath no fury like a woman scorned." Yeah, that would be true if you want to listen to a song about bullshit Facebook drama and how poor their self-esteem is. No one wants to hear that shit. Get the fuck out of my office. Metal isn't for people who get extremely butthurt and emotionally unbalanced for five days out of the month. I'll admit, bleeding is one of the manliest and most metal things one person could do, but not when it isn't caused by something awesome like a barfight or a motorcycle collision. The fact of the matter is chauvinism and metal go hand in hand. You can't be metal without being manly. This is a fact of life and if you disagree, I will slap your shit.
Sure, you could make the argument that metal is a sausage festival, but did you ever stop to think that this is no coincidence? You bet your ass you didn't, because you're a dipshit. Women in metal are doing one of the two following things:
Being eye candy
Ruining it
Just look at Winds of Plague and their constant cycling of disposable female keyboard players. They could easily stick a man in that spot and get some real work done, because men have the natural instinct of getting shit done. But no, Winds of Plague are trying to scrape the bottom of the barrel and attract the lowest common denominator while trying to hide the fact that their music isn't very good (which isn't working, by the way). You know what happens when you have a woman in metal? They do stupid shit like taking topless pictures of themselves and stirring up drama where it doesn't belong. Show some class, for Christ's sake. You're making yourselves look bad.
Let me further prove my point by spinning you a manly yarn. Last year during the In Flames headlining tour featuring Between The Buried And Me, 3 Inches Of Blood, and  The Faceless. Needless to say, the lineup was pretty manly. My girlfriend at the time who was with me at the show enjoyed the set except for 3 Inches Of Blood, but I can't blame her because she's a woman and she doesn't know any better. You can't expect a woman to understand the sheer awesome manliness that is exhumed in a 3 Inches Of Blood setlist. Just look at those guys.
Anyway, to much protest of the security guards (who were surprisingly on their game that night), a very visibly pregnant woman was in the very front of the crowd, right up against the rail. The security guards told her it wasn't safe and she should move to the back. They were even going to compromise and let her stand with them on the other side of the rail, which would be fucking awesome, but no. She wasn't having any of that, and she was going to be right there in the front with everyone else. Now, I'm all for indoctrinating the youth to the wonders of metal as early as possible, but this was a bit ridiculous. Anyone with half a functioning brain not clouded by hormones (aka men) could see the danger of having a pregnant woman at the front-lines of a metal show. If you want a miscarriage, do it the old fashioned way by drinking whiskey and smoking a carton of cigarettes a day (maybe even a FALCON PUNCH thrown in for good measure). This woman was pretty far along, so that huge belly of hers was right against the railing. Had there been a miscarriage (or worse, her water broke), the show would have needed to be stopped so her highness could get the hell out. I was in close proximity of this dumb and stubborn broad, so I had to sacrifice a portion of my good time by making sure I wasn't going to be flung into her. This woman should have been at home making someone's dinner instead of making more bad decisions (clearly, she has a history of bad decisions, as she was pregnant) and ruining our good time.
I think the key to good metal lies in the Y chromosome. Nothing good has come out of metal with either a) two x chromosomes or b) a suppressed Y chromosome. Those all-female metal bands like Kitty are terrible, and those bands in which the members all look like women?
Bitch, please. Hair and glam metal was always terrible because of the untapped potential of the Y chromosome. They parade around like women as if it's a good thing and whine and make God awful music. There's actually a woman in the above picture and she's the manliest looking one of the bunch, and she's probably the better musician for it. Granted, she's still not that good. I'm not even going to bother to call these scenesters out as being gay, because you can still be metal, manly, and gay. Just look at Rob Halford.
He's the epitome of metal and manhood, and he has sex with men. Straight men the world over wish they had the manliness of Rob Halford, and that's because he doesn't try to be a woman. That's fucking metal.
Think of metal as a sport; it should be played rough, hard, and fast. Full on (metaphorical) contact. Metal is no place for powderpuff and touch-tackle pansy nonsense. If women stepped up their game up and embraced an honorary Y chromosome, they just might find a place in metal that isn't steeped in mediocrity. It's just too hard because it doesn't come naturally. The essence of metal is secreted in the testicles, and that secretion is testosterone. Either man up or make me a sandwich. Better yet, do both, because I'm hungry for some metal.
– JR