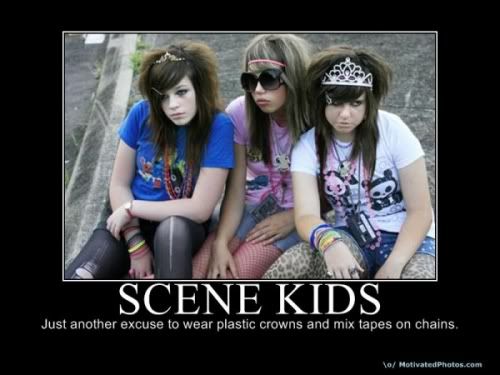 To start out, I'd like to introduce myself: my name is Joseph but you can call me Yogg Saron (Yes, that IS a WoW reference) and I am new to Heavy Blog Is Heavy. After Alkahest agreed to have me on here, I got to thinking what would be an appropriate first post to act as a precursor for what's hopefully a long, joyous time writing for Heavy Blog Is Heavy. Prior to getting on board, I wrote on and off for a site called Press On This (I better get something for this shameless plug), where the focus were the wonderful SC3N3 BANDS LYKE OMG. Getting to the point, I decided to go with a topic that's been stewing in my head for the last however many years: 5 Motifs of the Industry that NEED TO DIE! (These are in no particular order)
1. The Phrase "Oh!"
We've all heard and experienced it's cheesiness. An exaggerated gasp or growl to accent whatever is going on in the song. Great. Mr. Frontman, you've just said absolutely nothing of value. Almost never is the term "Oh!" used in stating a complete thought, even when accompanied by more useless ramblings, such as "Oh the blood, Oh the blood…" (Attack Attack!) or "Oh My God!" (Pretty much everyone else). I, for one did not get into heavy music to be bombarded by a motif that's just as at home in R&B. It's just become one of those things added to the equation to get noticed by overweight, multicolored scene kids with unnecessary attitudes. Another variation worth mentioning is the "Come On!".
2. Brightly Colored Neon Shirts
I cannot lie in saying that I haven't bought one of these before, I was young and didn't know better. The visual can be defined as a brightly colored, child themed cartoon that was just vomited on by a unicorn with food poisoning. Most likely developed as a ploy by bands and labels to brainwash confused, angsty teens, as every sc3n3 band has them. I thought part of growing up and becoming an adult was dressing appropriately and letting go of foolish childhood interests but I guess the Sturgiscore bands believe differently.
3. Synth Breakdowns
Now many can argue that breakdowns in general are the bane of heavy music but I believe that there are many cases where a solid breakdown or two has helped more than hurt. Synth breakdowns however, should die. To me, a synth breakdown is a complete cop-out for actual musicianship. They usually entail the crazy hair brigade recruiting yet another soldier to their ranks, most likely one without any musical ability but a big enough wallet to go out and purchase a $4000 Roland. In most cases, the keyboardist isn't even an integral part of the band and is used JUST for that small purpose! A notable exception however (and I'm probably going to get flamed for this) is the breakdown of "Abstract Art" by Born Of Osiris. I say this because the keyboardist does apply to the band's sound a little more than most and because it's NOT that terrible rave synth that much too many bands use as it has a more percussive sound to it, not to mention that the sweep on the tail-end is pretty difficult to nail (Trust me, I've tried).
4.  Hero Worship
I'm not sure if this quite fits in as it is more of a fault of the fans but I do believe the industry can be blamed to some extent. I'm talking about how so many people can somehow formulate in their minds that the members of their favorite bands have transcended the status of "normal human being". It's just pathetic seeing some of these people metaphorically (and sometimes literally) get on their knees and bow to these everyday scumbags. The way I see it, how the industry is to blame is for projecting that God-like image to those people.
5. Image
Out of the five, I find this motif to be the most universal, whether it be; hardcore, metal, screamo, emo, indie, etc. Image turns your band from an outlet of expression to a marketable product. Image sacrifices the quality of your music to make you more accessible to consumers. Image is the ultimate cop-out.
Obviously, I haven't touched on several motifs I probably should have but this was sort of written spur of the moment. I hope that you, as the readers, can appreciate my posts even in a state of disagreement. I look forward to putting out more posts and shenanigans for you to maybe look forward to also. I might even cut down on my ADD induced foot notes! (Yeah, not happening…)
– JB